05.08 What I Ate Wednesday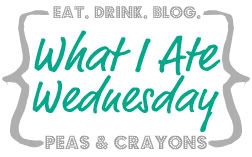 Wednesday was spent updating our newborn shopping checklist, which I've put into an Excel spreadsheet. It's helped to organise all the various products I've pinned and notes I've made on what to buy. We've pretty much chosen the stroller (Mima Xari) and crib (Stokke Sleepi) and various other items, like the Baby Bjorn carrier and Bloom Coco bouncer, so I spent time looking around for what we'll need to buy for feeding, changing, bathing, etc. It's helped to narrow down what to look out for as we visit baby shops and department stores in person over the weekends, as well as to create a budget.
On Monday, we bought the first outfit for our baby while we were out on King's Road, at Jacadi, a wonderful French kids-wear boutique! We loved the plush fabric of this adorable stretchsuit. Jacadi has a great selection of baby clothing, accessories and linens, and I plan on more shopping there, in particular for a hat, cardigan and booties in the coming months.
I started the day off with hot water (boiled then left to cool down) with lemon juice. I do this every morning as a detox.
While I drank my mug of lemon water, I made my breakfast – a "Berry Green Smoothie" using half of this bag of frozen mixed berries…
… along with about a cup of apple & ginger juice and a tablespoon of wheatgrass powder…
… plus a bag of baby spinach (washed again) and a banana. I let the frozen berries soak a bit in the apple and ginger juice for a few minutes to make it easier to blend.
This batch made enough for two glasses of smoothies to drink for breakfast on Wednesday morning, plus one for today (Thursday).
I also had a couple of slices of Paleo Banana bread for breakfast.
While I'm no longer 100% Paleo, I prefer to use Paleo recipes for baking or desserts. I've been craving banana bread for some time so over the bank holiday weekend, I made a batch using Civilized Caveman's Paleo Banana Bread recipe. It came out very good and moist. I've been enjoying a couple of slices for breakfast or a snack just on its own, or with a drizzle of maple syrup.
At midday I cooked up some quinoa and roasted a bunch of purple sprouting broccoli with olive oil, salt and pepper for a simple, satisfying lunch.
In the afternoon I snacked on a clementine…
… and a pot of my favorite yogurt: Yeo Valley Greek Style with Honey.
Later on the in the evening before dinnertime, I also snacked on some roasted almonds and macadamia nuts.
I was inspired by Peas and Crayon's loaded sweet potato post recently and, especially as I didn't feel like cooking, I decided to make one for dinner. It was so good! I defrosted some leftover chili con carne I made last week to top the baked sweet potato, along with Weight Watcher's low fat cheddar cheese, a dollop of Total 0% Greek yogurt and some chives from my trough of herbs. Loved it! Check out the original post for more topping ideas.
For dessert, I had the usual: a couple of Medjool dates with some Green & Blacks 85% dark chocolate.
Find out more about the What I Ate Wednesday link up here.